Why work for 1Medical? Benefits, perks & the fun stuff…
A career in medical recruitment can be very rewarding. By helping the healthcare system every day and providing doctors to hospitals, you will be rewarded with not just a sense of achievement, but also a great overall package and experiences you will never forget.
Salary & Commissions
Recruitment, as well as getting the right people in the right jobs and helping clients, is all about hitting targets and making commission.
It's a true meritocracy.
1Medical benchmarks our salaries and commission schemes against market data to make sure we are in the right place.
Hybrid Working – WFH /Remote working
We want to create a flexible work/life balance for our team. Our team works in a hybrid working environment. We provide our team with the flexibility to work from home a few days a week once you have passed your initial training period to reduce commuting times. We also offer remote working opportunities if you don't live in Sydney! We have team members working all around the world in - Sydney, Brisbane, Gold Coast, New Zealand, Ireland, Philippines, and South Africa!
Flexibility – Exercise on your own schedule!
Medical Recruitment is very diverse, and doctors work all hours of the day. To help with this at 1Medical we are flexible with our staff too and we give them the opportunity to exercise at a time that suits you if that's what you want to do of course! For employees that like to hit the gym or take a run when they're in the office are given more time to allow for this.
Incentive Work Outings
To reward our team for their achievements and hard work, we have monthly and quarterly work events. We embrace team performance and in return have company dinners and events to show our appreciation to all our staff members. We also have fun annual work events like the Melbourne Cup, Christmas in July, The "Real Christmas" Party and of course our famous international incentive trips.
Incentive Holiday/s – All expenses paid trip!
Every year we create a target for all our employees to work towards and if the target is met, all team members who contributed to the target are taken out for a complimentary holiday vacation with all expenses paid for.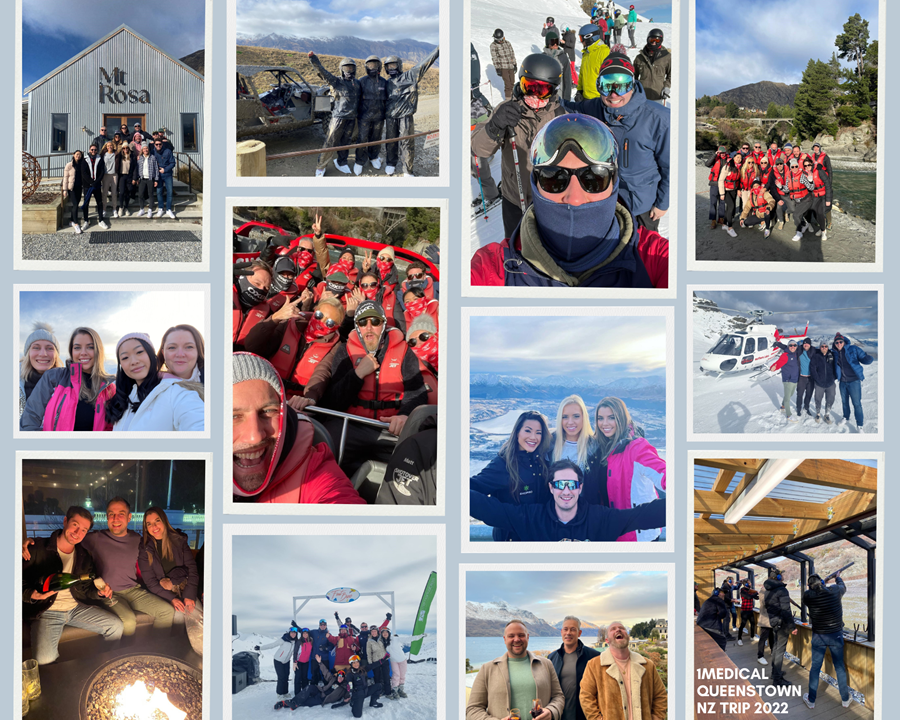 Team Building Events
As a company, we engage in yearly team-building activities. We take part in the GreenFleet tree planting scheme to help the environment but also an opportunity to get out in the sun and engage in fun teamwork.
We get involved in team sporting events to encourage physical well-being and to develop team-building skills. In the past, we participated in gameshows with the Great Amazing Race hosted via Zoom during covid times, charity walks, and many more fun activities.
Big Biller Club – Individual Incentives
We like to reward individual work performance as well as team incentives. The quarterly Big Biller Club is created for high achievers who show their hard work every quarter of the year reaching targets in sales. For the consultants who reach this target, they are taken for a grandioso dinner to celebrate their achievements and milestones.
Casual dress
At 1Medical we wear comfortable smart casual attire. We don't want our staff worrying about their appearance or clothing, we want everyone to dress comfortably and promote a hierarchical free culture. Prefer company clothing? We have 1Medical Nike shirt, jumpers, etc.
Career Development – Paid training courses & programs
We want our employees to grow whilst we grow as a business. Before you start working with us, we ask important questions.
"What are your work goals?" "What are your long-term goals?".
At 1Medical we want to ensure you are on the right path toward career growth and development. We can map out a plan which focuses on your career growth and opportunities. We are more than happy to undertake extensive training programs and sessions if this will help to achieve your long-term goals, including investing in training and development for you to grow your career with us, including paid professional education and courses.
Monthly Phone Allowances
Our employees receive a monthly allowance to cover phone bill costs of up to $1200 a year.
Bonuses
We are open to discussing individual performance and project-related bonuses. We know monetary incentive is a motivator for many individuals, and we are happy to reward our employees if we can see the hard work and effort shown through work performance.
Annual Leave – Extra leave!
Instead of 20 days of annual leave, we are increased our leave days for an additional day a year up to 25 days instead. For people that are performing well, we are fairly relaxed when it comes to holidays, especially for the ex-pats needing to get back home to see the family!
If you're interested in a career in medical recruitment, please don't hesitate to get in touch!
Contact us today at (02) 7258 0100 or au@1medical.com.au for more information.
We're always looking to expand our team so reach out today!
Follow us on socials to see what 1Medical gets up to:
Instagram: @_1medical
Twitter: @_1medical
Facebook: @1medicalFB
LinkedIn: 1Medical